Executive Education - DBA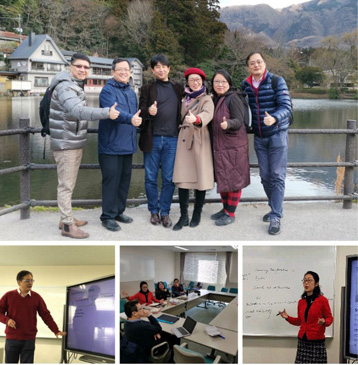 emlyon Global DBA 2017 & 2018 cross intakes research tour to Japan
On February 22nd, inspired by the spirit of cross - intake communication and interaction of emlyon Global DBA, 2017 and 2018 intake participants themselves organized to visit the Ritsuumeikan Asia Pacific University (APU) at Japan for a weekend, enriched with dissertation discussion and cultural experience activities. The trip was arranged by BAR Study Group in emlyon Global DBA 2017. It can be described as a real cross intakes research tour.

emlyon Global DBA has formed a learning group as the organizational structure and class committee as the core, to communicate with peers in stages and report the progress of learning, so as to maximize the time for doctoral participants to step on every research achievements and expect them to graduate timely together. In such a frequent interaction, it is easy to collide with new sparks of learning, but also to mobilize interest in doing research and further explore. The participants all found such discussion in a small group was quite effective and fruitful, which should be organized frequently.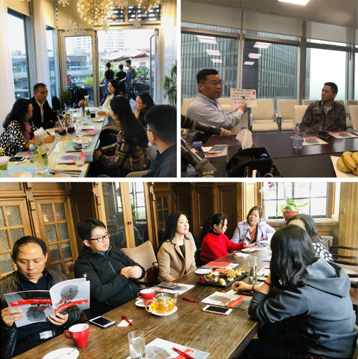 emlyon Global DBA Program Asia Track 2019 Coffee Chat were held in Shanghai, Guangzhou and Shenzhen
In March 2019,emlyon Global DBA Coffee Chat were held in Shanghai, Guangzhou and Shenzhen respectively, which gathered senior executives and entrepreneurs who are longing for a DBA journey, having a window to learn how to turn their own industry insights and management experience into a structured knowledge system that is ready to disseminate and benefit the industry and the society.

By taking these opportunities, attendees had a better understanding of emlyon Global DBA program and further established the intention of pursuing a DBA in the future. Most importantly, they realized that it will open new vistas for them to get high quality research that bridges the gap between academia and practical management and organizational issues. Executives are creating and also wanting to discover, communicate and summarize. The knowledge, wisdom of Chinese management and theories that will be generated in future will serve as better references for China's future practice and will contribute to the world's intellectual treasures.

Alumni Events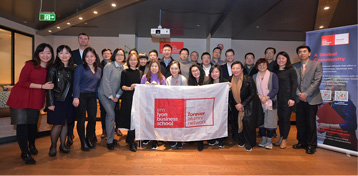 Alumni Gathering in the Spring | Supply Chain Transformation in the Digital Era
How is E-Commerce driving Logistics 4.0? On March 8, 2019, the alumni gathering themed with "Logistics 4.0 – The Digital Transformation of the Supply Chain" was hosted by emlyon business school and co-hosted by EDHEC, ESCP, GCC, Science Po and AFEA (Afterwork of Franced Elite Alumni) in Campanile Hotel Jing'an, Shanghai.

This time, the two alumni Dominique Vinet (emlyon MBA, 2003), Managing Director of North/East China DSV Solutions, and Johannes Kern (emlyon European Triple Degree, 2013), Senior Research Associate from Tongji University, were invited to share trends and new directions in the logistics industry to the attending alumni from leading French universities.

Dominique and Johannes believe that logistics is very complex, and digitalization can and will transform it, companies have to become disruptors, or they will be disrupted. The Chinese E-Commerce as worldwide benchmark leads the way.


Events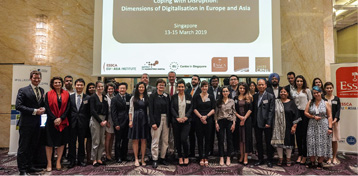 The Eighth Workshop on EU-China Relations in Global Politics
Prof. Dr. Nikola Zivlak, Deputy Director Undergraduate/ Graduate Programs, emlyon business school Asia, was invited to join the Eighth Workshop on EU-China Relations in Global Politics themed with "Coping with Disruption: Dimensions of Digitalization in Europe and Asia" from March 13th to 15th, 2019. The workshop is organized by UACES Collaborative Research Network on EU-China Relations.

This workshop attracted numerous experts in the field of digitalization in both Asia and Europe. All the guests also visited the Media Development Authority in Singapore, giving us a chance to learn about their Service 4.0 concept and planning related to digitalization.

With this workshop as a platform, Prof. Dr. Nikola Zivlak shared his vision on smart cities in the relationship to the "Belt and Road" and the project of Digital China Education Town in Fujian, a very important concept related both to education and digitalization. In the meantime, this workshop was also a good platform to strengthen the relationship between emlyon business school and various partners from academia, government and business circles.