Executive Education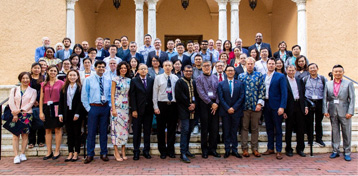 emlyon Global DBA Participated the 13th China Internationalization Forum in Rollins College, U.S.
From September 30th to October 1st, 2019, emlyon Global DBA 2018 and 2019 intake participated in the 13th China Internationalization Forum academic conference hosted by China Globalization Association (CGA) in Rollins College, U.S.

Nearly 100 leading scholars, business leaders and international business experts from more than a dozen of countries witnessed the event and discussed a number of hotspot topics in political, business and academic communities As a guest speaker, Ms. Wu Chuanjuan from emlyon Global DBA 2018 intake shared her research, "Analyzing Complexity and Agility of Chinese EV Supply Chain".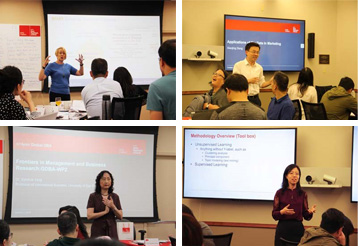 Frontiers in Management and Business Research Workshop Empowers Business Insight of emlyon Global DBA 2018 and 2019 Intakes
From Oct 2nd to 4th, 2019, the workshop of "Frontiers in Management and Business Research" for emlyon Global DBA 2018 and 2019 intake was carried out in U.S. which inspired creativity and collision in the specific research interests and directions of the participants.

By taking the workshop, emlyon Global DBA participants got a professional guidance by Prof. Junsong CHEN, Prof. Xiaohua YANG, Prof. Xiaojing DONG and Prof. Mary Conway Dato-on. They help DBA participants have a further understanding of frontiers in Management and Business Research in different perspectives, which points out the direction for the determination of the topic of doctoral thesis in the future.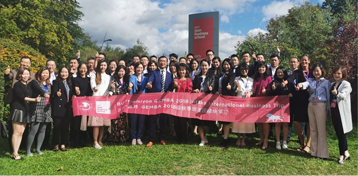 BUPT-emlyon 2018 Intake Autumn Cohort French Learning Trip
During Chinese National Day in 2019, under the lead of Marjolaine Koopman from emlyon business school, and two teachers from emlyon Asia, BUPT-emlyon 2018 Intake Autumn Cohort GEMBA students spent 8 days in French learning trip in Lyon and Paris campus of emlyon business school. Students have completed the courses including Application of Artificial Intelligence in Management, Blockchain and Industrial Transformation, China and World Economy, French Entrepreneurship, China in World Luxury Industry, West Art History. In addition, students visited Fortune Top 500 companies such as Renault, HP and BioMerieux (family business lasting for 4 generations). GEMBA students also gained exposure to French culture and art as they visited famous scenic spots such as Eiffel Tower, Louvre Museum, Triumphal Arch and Avenue des Champs-Elysees.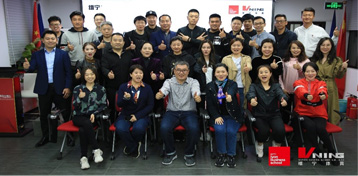 The 2019 Intake of EDP Program for Global Sports and Recreation Industry Leaders Successfully Concluded the October Module in Beijing
On October 12th and 13th, 2019, the 2019 intake of EDP Program for Global Sports and Recreation Industry Leaders successfully concluded the October Module at Vining Sports in Beijing, focusing on the industrial transformation in the Internet era and the investment trends in the sports industry, taught by Prof. Yang Xuecheng from Beijing University of Posts and Telecommunications (BUPT), Mr. Zheng Peimin, CEO of Realize Investment Consulting and Mr. Gui Yang, Senior Partner of Realize Investment Consulting. The instructors illustrated cutting-edge ideas and concepts with real-world case studies, which inspired the resonance and reflection of the participants. The group agreed that the two-day module was highly inspiring and helpful, which brought new lessons and insights to their corporate governance practices.
Program Office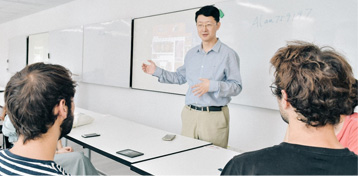 Match Talents with Industrial Needs
The 2019 Fall In-company Consulting Project (ICP) within the Asia Campus Semester has reached the middle stage. This semester, 115 students have presented their mid-term works, including 79 from PGE program, 22 from ECNU MBA Program, 13 from AEBS MIB Program and 8 local students from partner universities.

The ICP mid-term represented an important milestone in the overall work in as much as each student project group has delivered their mid-term report as well as given an oral presentation to the ICP jury summarizing and highlighting the progress made so far.
Makers CSR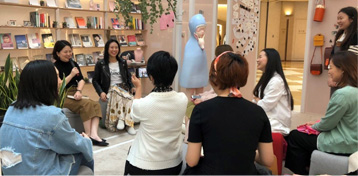 Be Pink | New Discussion in CSR
On 17th October 2019, emlyon business school was invited to attend a Women Public Welfare Seminar themed "Be Pink", hosted by Yicai Foundation. emlyon business school's resource department and its alumni discussed "True Self under the Independent Aesthetic" in Shanghai after lunch time.

emlyon business school works with Yicai Foundation to continuously promote the development of corporate social responsibility projects, and have jointly launched a workplace charity project to guide and stimulate the "full-cycle capacity building" of talents. In the future, two parties will join hands to make the world a better place.
Events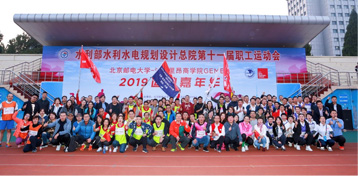 BUPT-emlyon GEMBA 2019 Sports Carnival Successfully Held in Beijing
On the afternoon of 18th October 2019, BUPT-emlyon GEMBA 2019 Sports Carnival was successfully held in the stadium of Beijing University of Posts and Telecommunications.

The Sports Carnival combined fun games and traditional sports which aimed to enhance friendship and unity among students. They also had the opportunity to improve team management, collaboration and thinking, as well as building up the mindset of striving to achieve the goals and never giving up.
Company Visit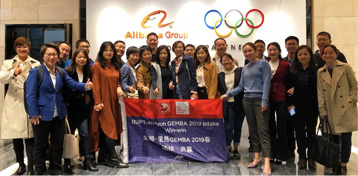 GEMBA Company Visit to Alibaba Group
Invited by Ms. Xiao JIA and Mr. Jun HE (both from BUPT-emlyon GEMBA 2019 Spring Cohort) from Alibaba Group, BUPT-emlyon GEMBA students recently visited Alibaba center in Beijing.

GEMBA students learned about the development history, business arrangement and future ecological strategy of Alibaba. They also understood the difficulties of starting up the business and Alibaba's visions. Gaining insights of Alibaba's essence business and technology, students were inspired to innovate and start their own business, promoting the mission of emlyon business school to cultivate early makers in the digital times.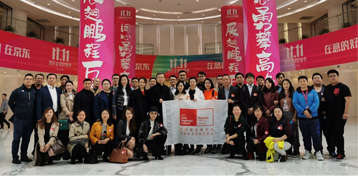 Company Visit to JD Group
On 22nd, October 2019, initiated by Mr. Chenggang CHEN (from BUPT-emlyon GEMBA 2018) in JD Group, emlyon business school Northern China Alumni Association organized the company visit to the headquarter of JD Group. Exposed to JD technologies from Pick-up location, JD Locker to cashier-less store and drones, from automatic logistics equipment to Intelligent IoT innovations, our alumni were deeply impressed by innovation and transformation of business in the Intelligent Era.